Spine:
The bony skeleton of the body supports and protects the soft tissue organs of the body. The bony skeleton is moved by the muscles and tendons of the body. The skull along with the spine forms the central axis of the bony skeleton and ankles the upper limbs and lower limbs. The spine is 33+34 vertebra in between which are 3 joints at a pre-level. there is an inter-vertebral disk in the front and 2 synovial disk at the back.
Spinal disfunction can occur because of: -
1. Prolapsed disc (microscopic and endoscopic discectomy)
2. Spondylolisthesis
3. Cervical and lumbar canal stenosis
4. Infection Spine
5. Deformity of spine (kyphosis and scoliosis)
6. Fracture of the spine
Disfunction of the spine can cause mal-alignment of the joint and pressure of the spinal cords and nerves.
Mal-alignment of the joints will cause local pain most probably due to muscle spasm.
Pressure on the spinal cord or nerves will cause numbness and weakness in the body or limbs and in severe cases will cause disfunction of the bladder and bowel.
1. PROLAPSED INTERVERTEBRAL DISC (MICROSCOPIC AND ENDOSCOPIC DISCECTOMY)
SIDE/LATERAL VIEW OF LUMBAR SPINE
Commonest disease of the spine is age and activity related Prolapsed intervertebral disc (PID). In 95% of the cases the bed-rest and medications are enough to treat the problem in the 1st episode. After the 2nd episode, 58% of the patients heal with conservative treatment. After the 3rd episode 30% heal with conservative treatment. The remaining require surgical treatment.
SIDE/LATERAL VIEW OF LUMBAR SPINE
1. Endoscopic and microscopic discectomy:
This option is used to treat unilateral disk-prolapses.
Surgical incision is very small.
(2cm) Hospital stay is 1.5 days.
2. Discectomy and Stabilization of the spine using instrumentation
Instrumentation is commonly done when the spine is unstable, when the patient is young and when more than 2 segments are involved and for deformity correction.
a) PROLAPSE INTER VERTEBRAL DISK
b) SPONDYLOLISTHESIS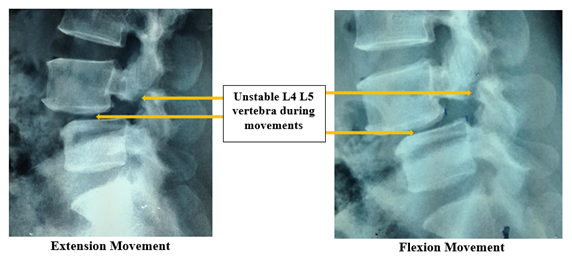 2 level prolapse inter vertebral disk L3-4 and L4-5 compressing lumbar nerves
MULTIPLE COMPRESSION FRACTURES
LUMBAR CANAL STENOSIS A)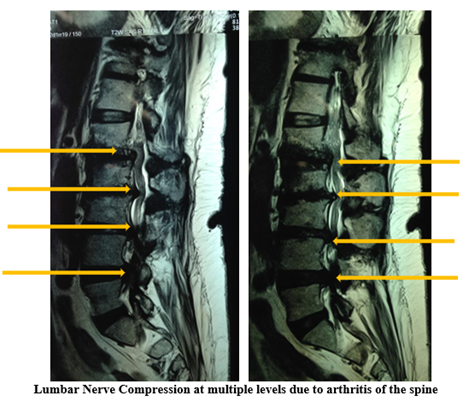 LUMBAR CANAL STENOSIS B)
SPINAL INFECTION