Trauma :
Trauma to the body causes not only fractures of the bones but, disrupts the soft tissues envelope around the bone causing damage to the skin, muscles, tendons, nerves and blood vessels.
Treatment requires healing of bone and soft tissue injury.
• SIMPLE FRACTURE is a fracture where the soft tissue covering is intact.
• COMPOUND FRACTURE is a fracture where the fractured bone ends are exposed due to injury of the soft tissue and skin.
• COMPLEX FRACTURES are the fractures with multiple bone fragments, fractures extending into the joints and fractures associated with muscles, nerves and blood vessel damage and loss of skin and soft tissue.
• FRACTURE DISLOCATIONS are fractures associated with joint disruptions and articular surface dissociation.
COMPLEX FRACTURE WITH TIBIA IN MORE THAN 50 BROKEN PIECES AND LARGE OPEN WOUND
COMPLEX FRACTURE WITH DISLOCATION OF THE LEFT SHOULDER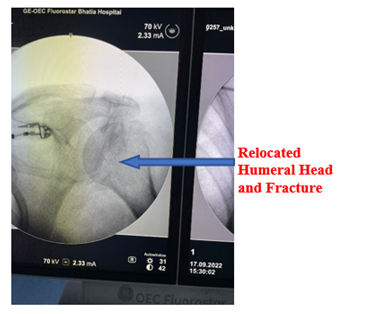 FRACTURE TREATMENT
99% of the fractures in children can be treated without surgery with plastering techniques.
Fractures are fixed with a variety of implants which include steel wires, nails, plates, external fixators and sometimes with hemi-arthroplasty.
DISPLACED WRIST FRACTURE
FOREARM FRACTURE FRACTURE IN THE ELBOW
COMPLEX COMMINUTED FRACTURE OF THE ELBOW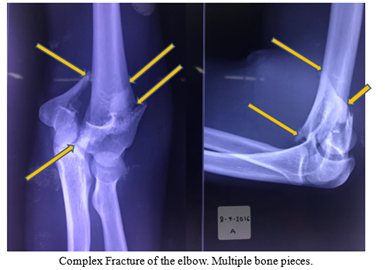 FRACTURE OF THE HUMERAL HEAD WITH SEVERE ROTATION DISPLACEMENT
COMMINUTED COMPLEX FRACTURE IN THE ARM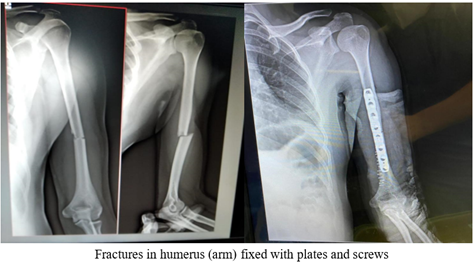 INTER-TROCHANTERIC HIP FRACTURE
FRACTURE OF THE FEMUR (THIGH)
EXTERNAL FIXATION OF FEMURAL FRACTURE
COMPLEX COMMINUTED FRACTURE OF THE LOWER THIRD FEMUR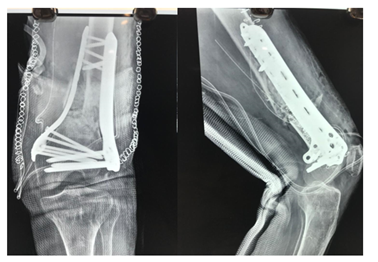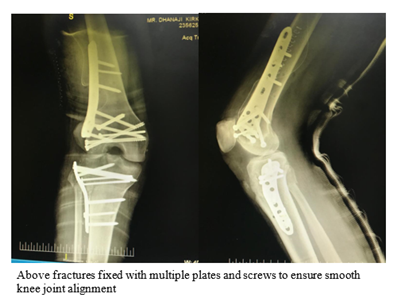 PRIMARY EXTERNAL FIXATION OF THE FRACTURE
SECONDARY FIXATION PLATES AND SCREWS
FRACTURE OF LOWER END FEMUR WITH POPLITEAL ARTERY TRANSACTION AT THE KNEE
TRANSECTED POPLETIAL ARTERY REPAIRED AND FRACTURE FIXED WITH PLATE
POLYTRAUMA
PELVIC FRACTURE DISLOCATION
COMPOUND FRACTURE OF THE TIBIA & FIBULA